The Antoinette Necklace
Regular price
Sale price
$65.00 USD
Unit price
per
Sale
Sold out
 Introducing "The Antoinette" Necklace: Unleash Elegance and Grace
Behold the captivating beauty of "The Antoinette" Necklace, a stunning piece of jewellery that will leave you breathless. This exquisite necklace is named after the legendary Queen of France, Marie Antoinette, known for her iconic sense of style and allure. Just as she commanded attention with her regal presence, this necklace will make you feel like royalty wherever you go.
"The Antoinette" Necklace features a luxurious pearl choker, carefully crafted to embrace your neck with elegance and sophistication. Nestled in the centre of the choker, a resplendent rose adds a touch of romantic allure, reminiscent of a blooming garden.
Designed with meticulous attention to detail, the back of "The Antoinette" Necklace is adorned with a delicate ribbon, tied gracefully to secure the necklace in place. The ribbon allows for a customisable fit, ensuring comfort and perfect alignment with your unique style. With its gold-plated finish, this necklace exudes a sense of opulence and luxury, instantly elevating any ensemble to new heights.
What sets "The Antoinette" Necklace apart is its innovative ribbon attachment system. Each side of the choker features a hoop that folds the ribbon in half, creating a mesmerising illusion of two ribbons on each side. This ingenious design allows you to effortlessly interchange the ribbons, adapting to your mood, outfit, or occasion. Whether you desire a satin ribbon for a touch of sensuality or a vibrant velvet ribbon for a bold statement, this necklace empowers you to unleash your creativity and express your individuality.
Indulge in the allure of "The Antoinette" Necklace and embrace the beauty that lies within. As you wear this exquisite piece, your head will be held high, your confidence will soar, and the world will marvel at your elegance. Let "The Antoinette" Necklace be your companion, captivating hearts and inspiring admiration wherever your journey takes you.
Length:
Pearl choker: 22cm/8.6 inches
Ribbon tie: 42cm/16.5 inches
Shipping & Returns

Worldwide shipping with options based on your location.

Please check out our return policy.
Dimensions

Please measure carefully using the size chart attached.
Care Instructions

Hand wash cold. Use press cloth when ironing. Reshape before hanging out to dry.
Share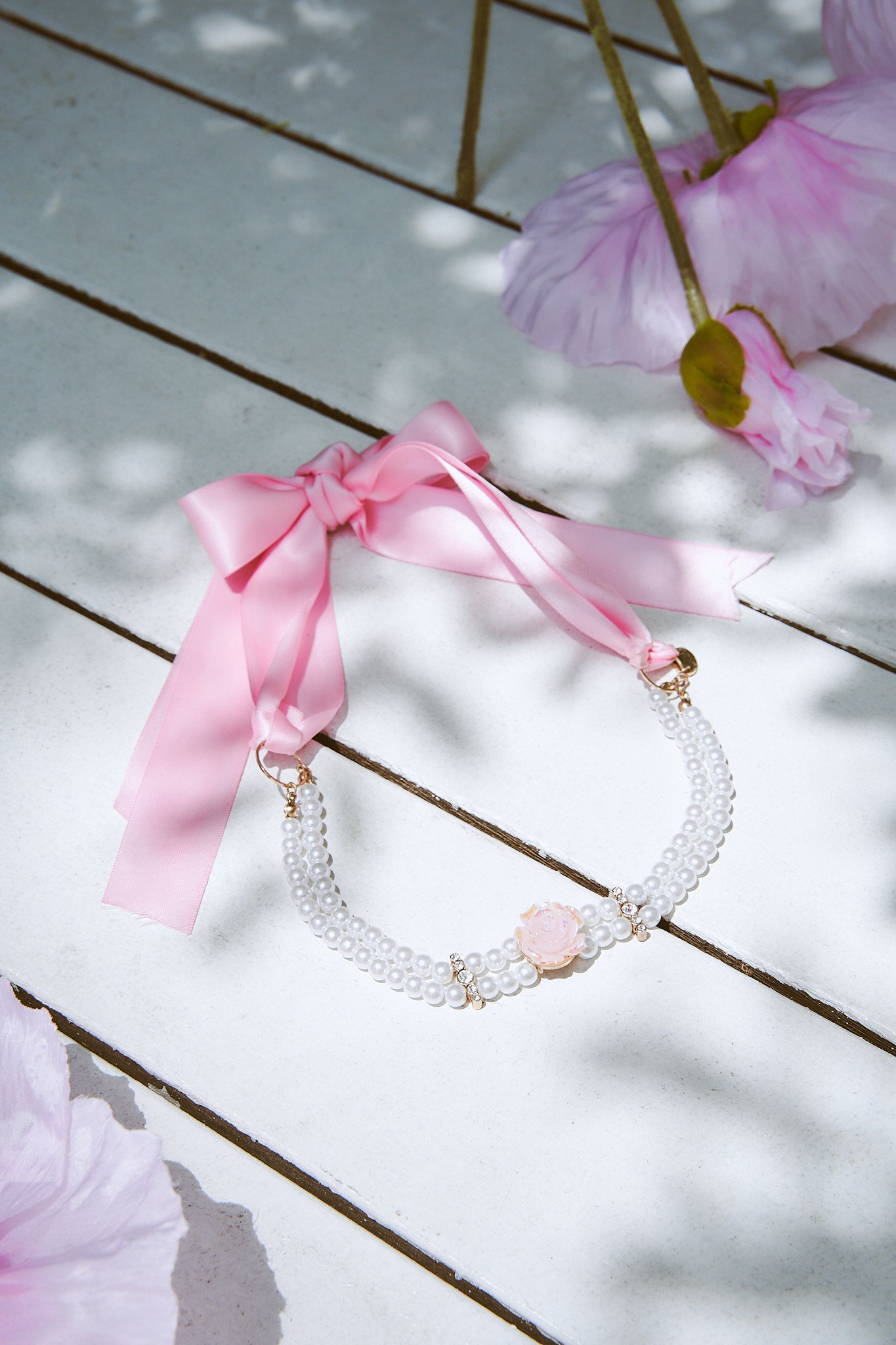 Wear it with friends
Vina of the Valley is perfect to wear with friends.